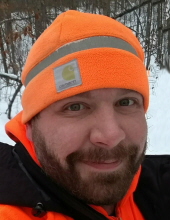 Obituary for Nick Osborne
Nicholas "Nick" James Osborne was born on April 22, 1982 in St. Francis Hospital in Shakopee, Minnesota to Gregory and Deborah (Pryor) Osborne.  Growing up Nick and his family resided in San Francisco, California and Cleveland, Ohio.  He graduated from the Strasburg High School in Colorado with the class of 2000.  Nick attended the Brown Institute in Minneapolis and then was employed in the construction field. 

On November 5, 2010 Nick was united in marriage with Nicole Coreen Stephens in Duluth, Minnesota.  Nick and Nicki have been together 13 years, and have known each other for 19+ years. Their marriage was blessed with a daughter, Nevaeh.  They resided in Woodbury, Minnesota where Nick was employed with Ace Hardware.  Nick and Nicole made their home in rural Perham in November of 2017 and Nick was employed with Vision Glass in Perham. 

Nick loved fishing, hunting, and the Minnesota Vikings. His favorite pass time was grilling and smoking food. He was known as the "Grill Master".

On December 16, 2017 Nick passed away at his home in rural Perham, Minnesota at 35 years of age.  He will be dearly missed by his family and friends. 

Preceding Nick in death were his grandparents: Clair & Ruby Pryor and Russell Osborne.

Nick is survived by his loving wife, Nicole Osborne of Perham; daughter, Nevaeh Osborne of Perham; grandmother, Betty Osborne of Cloquet; parents: Gregory and Deborah Osborne of Strasburg, Colorado; parents-in-law, Clyde (Donna) Stephens of Perham and Renee (Ken) Sutherland of Yuma, Arizona; brother, Stephen (Makena) Osborne of Strasburg, Colorado; niece, Evelyn Osborne of Strasburg, Colorado; sister-in-law, Shelly Stephens of Minneapolis; brother-in-law, Erik Stephen of Detroit Lakes; numerous aunts, uncles, cousins, other relatives and a host of friends.
Previous Events
Service
Hosanna Ministries ~ Perham
150 6th Ave SW
Perham, MN 56573
GoFundMe Donations: https://www.gofundme.com/in-loving-memory-of-nick-osborne
Service
Celebration of Life ~ Nick Osborne
56805 East 33rd Pl
Strasburg, CO 80136-8074
This is a time for all of Nick's family & friends to come together & talk about Nick, share memories and enjoy good food & drinks. Hope you call can join us!