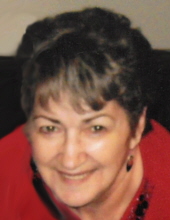 Obituary for Lavonne Schafer
Lavonne Marie (Dale) Schafer was born March 3, 1939 in Richville, MN to Gladys (Motz) and Eugene Dale. She attended Richville Country school thru the 8th grade and then attended Perham High School.

She met Duane Perala while working at Tilman Produce Company candling eggs. They were united in marriage on May 8, 1959. Their union was blessed with three children; Scott, Terri and Tom. They moved from Perham to New York Mills in 1963.

Lavonne started working at the new hospital when it first opened. In 1974, Lavonne was the first woman hired at Lund Boats to work inside the plant. She was told if the guys didn't like a woman working with them after 1 month, she would no longer have a job. But with the laws changing, she remained at Lund Boats until her retirement, 26 years later. Duane passed away in Feb 15, 1997.

Lavonne met and later married Bob Schafer in June 27 of 1998. They lived on Ottertail Lake. Bob passed in July of 2008 and Lavonne moved back to New York Mills. She met Duane Castle, an old childhood friend, and they shared many years of happy adventures and life together.

Lavonne enjoyed playing cards and games of any kind. Playing her piano, accordion and entertaining friends and family. Through the years, she enjoyed many varied hobbies: teaching herself to knit, crochet, paint, and crewel. She was a very talented woman and could accomplish anything she put her mind to. She was always encouraging and loving, and will be missed by all.

She is preceded in death by her parents; husband Duane Perala; husband Robert Schafer; daughter-in-law Delilah (Mrs. Scott) Perala, and grandson Jeremy Perala.

Survived by her children: Scott Perala of New York Mills; Terri Murphy of New Mexico; Thomas Perala of New York Mills; grandchildren: Christina Theisen, Daniel Perala of Sitka, Alaska, and Mackenzie Perala New York Mills; 4 great-grandchildren; sister Sandra Wheeler of Detroit Lakes; brothers: Arlan (Linda) Dale of Crystal City, Canada; Paul (Sue) Dale of Cottage Grove MN; sister Deborah (Harvey) Herbst of Frazee, MN; many other relatives and friends; and of course her 'better half', and beloved Duane Castle of New York Mills, MN.
Previous Events
Service
Trinity Lutheran Church ~ New York Mills
424 East Gilman Street
New York Mills, MN 56567
A gathering of family and friends will be held one hour prior to the memorial service at the church.