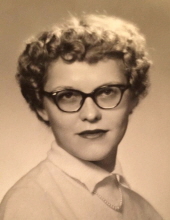 Obituary for Glenda Majava-Kurtz
Glenda Ione Ardell Majava-Kurtz was born May 14, 1935 in Heinola, MN to Walfred and Siiri (Fraki) Majava. She grew up and attended school in New York Mills, MN; graduating in 1953. Glenda extended her education at Bemidji State University from 1954-1956 and then resided in Minneapolis, MN with her aunts, Alice and Nona. She was employed as a Purchasing Clerk for a machinery company; then returned to college where she majored in Speech Pathology. She enjoyed being Alice and Nona's interpreter of conversation, because people didn't know she could hear, as they only signed each other. Glenda enjoyed and attended theatre at BSU, where she played the clarinet for 20 years and was told she had a 'solo voice' by her choir director.                

Glenda was united in marriage to James Arthur Halderson in Wisconsin and they were blessed with five children: Michael, Colleen, Christina, Maureen and Donna. James died on November 25, 2008.            

Glenda was employed for nearly 20 years with the State of California Penitentiary as an executive secretary and labored for Disability Acts in Chino, CA. She was then married to Howard Kurtz on August 25, 1984 in Corona, CA; making their home in New York Mills, MN in the early 90's. Glenda has resided in Staples, MN for the last 4 years.           

She was an active member of the First Congregational United Church of Christ in New York Mills. Glenda loved singing, sewing (being known as the 'fastest foot in the west'), volunteering, and Christmas - which was her favorite time of the year.          

Survived by husband, Howard Kurtz; children: Michael Halderson of Boise, ID; Colleen Siiri (Andres) Perez of Wadena; Christina Halderson-Morgan of Perham; Maureen Halderson of Napa, CA; Donna Zapata-Halderson of Wadena; several grandchildren and great-grandchildren; sisters: Melba Elaine Hensel of Minneapolis, MN; Donna Majava Seabring of Shore, FL; many other relatives and a host of friends.       

Preceded in death by her parents; husband, James Halderson; brother, Keven John Alan Majava; aunts: Alice Fraki Varns and Nona Fraki Schumacher.
Previous Events
Visitation
First Congregation United Church of Christ
11 E Gilman Street
New York Mills, MN 56567
Service
First Congregation United Church of Christ
11 E Gilman Street
New York Mills, MN 56567