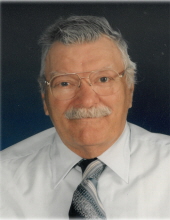 Obituary for Erwin Post
Erwin Hubert Post was born on September 4, 1938 in Perham, MN. His parents were the late Al and Marie (Koep) Post. He was the oldest of five children. Erv was raised on a farm in Otter Tail County; graduating from Parkers Prairie High School and proudly served in the United States Navy in 1956. He was on the Pacific Fleet, 7th Fleet 77 Task Force for 4½ years. He was also on the Formosa Strait, Quenmoy Matsu Island off of China. In charge of Padre Island Gunney Range for one year, attached to different helicopter squads for a total of ten years in the Navy.

Following his Honorable Discharge, Erv was united in marriage to Mildred Bashaw on April 16, 1966 in Wisconsin. Erv was president and CEO of PS Machine.

After Millie's death in 1977, he went on to buy the Peak Supper Club in Clitherall, MN. Upon selling the supper club he moved to Oregon, where he was united in marriage to Elrene Hanson on June 4, 1986.   Erv was employed with Hwy Products and Baltaw Standard.  Erv and Elrene moved back to Minnesota where he was employed with Lund Boats in New York Mills, until cancer forced him into retirement. Later he worked at a roadside park on Highway 78, until a stroke forced him to quit.  

Erv served on the city council for 10 years, was a Life Member of the V.F.W. Post and American Legion, member of the Lions in Minnesota and Oregon; a master gardener, a member of the Ottertail Rod and Gun Club. He was also involved in raising exotic birds. He co-chaired the Relay of Life and was a 16-year survivor of cancer. Erv was proud to be on the recovery mission for NASA's Gemini 4.

On December 2, 2017 Erv passed away at Perham Living in Perham.  He will be dearly missed by his family and friends. Preceding Erv in death were his parents; wife, Millie; step-son, Lynn Hanson; aunts and uncles: Ben and Rose Stich; Erv and Florence Fruth; John and Evelyn Koep; his pets: Bowser, Blitz and Lucky. 

Erv is survived by his wife, Elrene; brother, Al (Marsha) Post; sisters: Barbara (Clyde) Smith; Bonnie Roers; Sue (George) Haddican; sons: Michael Bashaw of Wagoneer, OK and Dan Bashaw of Phoenix, AZ; step-children: Gene Hanson, Elaine (Myron) Lueders; Bonita (George) Ritona, Barbara (Loren) Hawes and their extended family and cousins; special friends, Don Siefert & Ronald Thoennes; long-time friend, Ernesto Javier and pets, Abby and Pinky.
Previous Events
Service
Karvonen Funeral Home - Wadena
419 2nd Street NE
Wadena, MN 56482
Visitation will be held one hour prior to the service