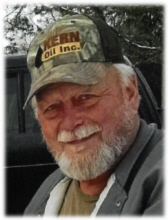 Obituary for Ricky Stinar
Rick passed peacefully and unexpectedly in his sleep Wednesday, November 1, 2017 with family by his side. Rick grew up in the Verndale area where he met his wife of almost 50 years Jean Epler. They were blessed with three daughters. They moved to the Aitkin area where Rick worked for Mille Lacs Electric for approximately 12 years. Rick then bought the farm in Bluffton from his parents and lived there for almost 30 years.

During this time, he worked for the city of Wadena, hauled cement, milk, potatoes and was self-employed in the tree business. He then sold the farm to his grandson and moved into Wadena where he lived with his wife until his passing. There wasn't a day that went by where he didn't feel compelled to share his wisdom with his daughters… which was passed on to his grandchildren…by him because he didn't trust anyone else to do it right. He also instilled his taste of music in his daughters when they were young, often turning up the radio and telling them, "Now this is music!". They didn't agree with him, but now are very knowledgeable in music ranging from Sonny James, Charlie Rich, Charlie Pride, Ronnie Milsap, BJ Thomas and Abba.

He loved going for rides, playing poker at all family holidays, pulling tabs, doing his scratchers, and having a beer. He in fact taught his daughters to play poker with him before they were even in school, a tradition passed down to his grandchildren at the same age, and now his great granddaughter Myah who at 4 was old enough to play.

Rick loved animals, especially his dogs which have always had a special place in his heart. His current love was Chico a dog that came from a kill shelter in Texas.

Everyone who knew Rick, knew that he was truly one of a kind. He was opinionated and stubborn, had his ways and ideas about everything, and was not afraid to tell you just how it was… which for all of us makes his passing that much harder.

Survived by wife, Jean; Dog, Chico; daughters: Rhonda (Scott) Rude, Janine (Brian) Kern, Lora (Dale) Schmitz; grandchildren: Derrick (Caitlyn) Rude, Jake (Kristyn) Rude, Britta (Logan) Meyer, Kyle Kern, Emma, Beth, and Joey Schmitz; great-granddaughters: Myah and Ava Meyer, Sophia Rude, Baby Rude due in May; parents: Rhoda and Chuck Stinar; siblings: Steve (Rosie) Stinar, Mike (Delle) Stinar, Brad (Brenda) Stinar, Shari (Daryl) Mattson, and Michelle (Art) Schluttner; sisters-in-law: Carol (Dave) Miller, Sandy (Gary) Gould, and Robin (Tony) Carlstrom, and many nieces, nephews, other relatives and a host of friends.

Preceded in death by sister-in-law, Chris Line; parents-in-law, Ralph and Delores Epler.
Previous Events
Service
Wadena Elks Lodge #2386
647 Jefferson Street North
Wadena, MN 56482