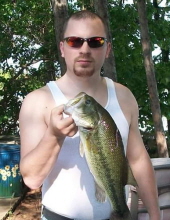 Obituary for Geoffrey Yates
Geoffrey Allen Yates, age 37, of New York Mills, MN, formerly of Minneapolis and Cottage Grove, MN died unexpectedly on December 27, 2017, in the arms of an angel.Geoff loved fishing, hunting, the outdoors, and living up north. He truly loved his family and friends. Geoff had a big heart and would do anything for anybody. He was a kind, loving, and gentle soul. He will be greatly missed. There is a huge void in our lives without him. May you be at peace and be comforted in the arms of your family and God until we see you again.

Geoff is preceded in death by his mom, Terry (Schaaf) Yates; dad, Ronald Broman; grandpa Bill Yates and aunt Traci (Espinoza) Yates.

Survived by sons: Benny Boyd and Logan Yates; sister Stacy Yates; brother Brian Yates; sister Laura Yates; stepfather Jeff Schaaf; grandma, JoAnne Yates; many aunts, uncles, nieces, nephews, cousins; special friend, Casey Langworthy and Tyler Boyd, who was like a son.

A private Celebration of Life and interment will be held at a later date.
Events